My Memory Story :
African Anecdotes©

Chapter V: The Pointe Denis
Really, the work-sites of my father as much are varied that surprising. In fact on the eve of August 15, while returning work, this one proudly announces us that tomorrow we would go in family to pass the day to the Pointe Denis. The business employing dad to unhook an important work-site, it is a question of to construct a vacation town composed of several bungalow, out it is located that his employer to accepted to lend us an out edge for us there to return. The next day, shake low fight in our puts, my mother prepares of what peak niquer while my brother and myself let us muster our some dive matters, has to know mask, tubas and palms. A quarter of hours later we are located on the pier to embark. The crossing is quick and Libreville already is not that a line to the horizon when we approach the Pointe Denis.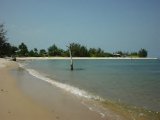 Right away I notice these magnificent beaches and water is so clear that one can see the least fish freely to circulate. Sudden a deaf and powerful noise breeze the silence appeasing of this magic places. I raise the eyes and notices a freighter transporting various re-provisionings. the siren that I had just heard was a fact the klaxon of this immense vessel signaling his entry in the estuary of Libreville.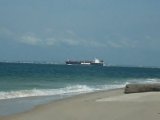 This is a moment astonishing that offered itself to our eyes. While we tasted the magie to be such Robinson Crusöé on his island paradisiaque, we had under the eyes the reflection of the modernity, with all its consequences concerning various pollution. We imagined easily this immaculate beach and this so blue water cover of the rejections of this immense animal of the seas creates hand of the man.
Fortunately the joy and the good mood to be present this day on this almost island that is the Point Denis, we fast forgotten fit our negative thoughts. At this point in time we realized that we had forgotten Diane, our puppy of 2 month, in the boat that brought us here. In fact Diane was afraid of water and had not dared to jump in the sea to rejoin us.
A work colleague of my father, fresh landed of France for the work-site and that passed the day with us, say itself sudden: " Leave me to do, I know how to do for him to like water!" And before we could react, this one takes the young animal to arms the body and the pier to water. During the first seconds, Diane did not arrive to swim the head outside water and seemed to pain to resume his breathing. The beach being only has some meters, she succeeds, after rough efforts, to rejoin the earth closes. I not then to prevent me, despite my 11 years, to insult this man, believing all to know because arriving from Paris, that had fails to drown our new companion. I believe that had Diane its frayeurs stressed by his experience for to his last day, a dozen of year later, she not been able never to put the least ergot in water.
To Followme...